With millennials now being the largest pet owning generation (35% of pet owners), pet businesses are finding it more important than ever to stay on top of their demands. Because of their differences in shopping habbits as compared to previous generations, millennial pet owners have inspired many innovative pet products on the market today.
Although cats and dogs are still the most favored pets for households, other pets such as rabbits and backyard chickens are also becoming popular among this generation. However, many of the mass produced options currently on the market are not up to millennials' standards, and those manufacturers are starting to pay the price for it.
Advantek has identified the opportunity that this generation brings to the pet industry and is taking advantage in a few different ways. From creating humane standards for their chicken coops to providing stylish portability to dog owners, this pet containment brand knows how to appeal to millennial pet owners.
1) Backyard Chickening Trend
If you're hearing more clucking than usual lately, you're probably not going crazy: backyard chickening is on the rise. Not only are millennials discovering that chickens are fun pets to have, but they also have a variety of added benefits that many other pets don't offer.
Backyard chickens are popular among millennials because they provide:
Fresh eggs for their omelettes (and they're organic!)

Proven knowledge of cruelty-free food

Free fertilization for gardening

Pest control

Food waste

Socialization within backyard chickening communities

A fun hobby

Someone to care for (as many

prefer pets

, including chickens, over kids)
Reading through this list, you may have noticed a trend: backyard chickens offer millennials a way to get fresh, organic, sustainable food right from their own property. It also feeds into their social side with chickening communities and allowing them to take care of someone.
Advantek recognizes this trend and is not only one of the top manufacturers for mass-produced chicken coops, but they are also constantly looking for ways to improve their selection and make their products more appealing to millennial pet owners.
2) Increased Humane Capacities
The humanization of pets is a hot topic within the pet industry for a reason: it's in high demand by millennial pet owners in the United States. As this generation is now the highest pet owning generation, there's no doubt that pet product manufacturers should be listening.
Over a year ago, Advantek started to see this trend really start to affect their current chicken coop offering. They found that customers were complaining about over-exaggerated chicken capacity counts that didn't live up to their promises.

After completing in-depth research, they set out to create and set standards within the pet industry that define humane chicken capacity counts on coops. These standards consider the following:
2-3 square feet per chicken for roosting and space. 1 square foot on the roosting bar

12" x 12" x 12" for a nesting box per 1-3 chickens max

3-6 square feet of running space
Their product design team is also currently working on new designs for Spring of 2018 that will become the first mass-produced chicken coops to uphold humane chicken capacity standards.
Related Article: 3 Ways the Pet Industry is Becoming More Humane
3) Efficient Clean Up
If there's one thing in common with rabbits and chickens, it's that they're notorious for being difficult to clean up after. However, one of the most important aspects of owning a pet is being able to clean up after it. The problem is, many chicken coops and rabbit hutches haven't taken this into consideration.
As we mentioned in a recent article about 2017 pet containment trends, being able to simply and easily clean up after a chicken, rabbit, or any other pet is going to become extremely important throughout 2017 and beyond. As millennials are used to everything - from technology to shopping - becoming more efficient, cleaning up after their pets is certainly a major consideration.
Advantek is currently working on developing methods to simplify the clean-up process for their chicken coops and rabbit hutches. This includes built-in litter boxes for rabbits, eliminating pull-out trays, and researching design innovations that solve these inefficiencies
4) Increased Pet Safety Standards
Everyone wants their pet to be safe, and with millennials now treating pets like children, they certainly aren't any different. Predator-proofing chicken coops and rabbit hutches is becoming more important than ever as customers become educated on how to protect their pets.
Advantek is currently working with their factories to develop improved, custom hardware that increases the predator proof features of their products. The hardware, combined with a sturdy hardware cloth, will be designed to ensure millennials' pets are safe, no matter where they are living.
Related Article: How to Get Millennial Pet Owners to Shop at Your Store
5) Mobility with Dog Travel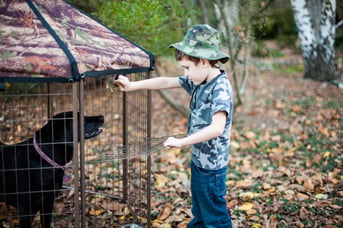 Rabbit hutches and chicken coops aren't the only two product categories that Advantek is toting to millennials. To millennials, the idea of being mobile with their pets is much more popular than with baby boomers.
According to a report by Wakefield Research and compiled by PIJAC, "61% of Millennials think it's important to have a "portable" pet - compared to just 31% of Boomers." In other words, portable pet products are key to capture a millennial's attention.
Advantek's top selling Pet Gazebo is not only portable (in the sense that it's easy to pack up in one of their tote bags and go), but it's also very easy to put together with no tools. Because of this, millennials are able to travel with their dog anywhere - to the lake for a picnic or to the campground for the weekend - and set up a kennel that will allow their dog to be safe and secure.
6) Replacing Dog Houses with Stylish Dog Kennels
In an article discussing how the humanization of pets affects pet habitats, we mentioned that dog houses were largely affected by the pet humanization trend. As more and more dogs are allowed to sleep in the house - and on the bed, for that matter - the need for dog houses has sharply declined.
Back in the day, dog houses were used to keep your dog safe and warm at nights while they slept outside. Now, you'll be hard pressed to find anyone who doesn't let their dog inside, at least at the end of the day. Even if left outdoors during the day, dogs will wither be found free-roaming the backyard (if safely fenced) or relaxing inside an open dog kennel.
Related Article: Pet Containment Trends to Watch in 2017
Advantek identified this trend and discontinued their dog houses. Instead of trying to save a dying product category, they invested their money in a product that millennials will be more likely to splurge on: The Advantek Select Pet Gazebo.
This upgraded version of the Original Pet Gazebo not only offers increased security benefits, but also includes a stylish market-top cover in a variation of colors designed to match current backyard furnishing trends. Because "millennials (76%) identified an item they are more likely to "splurge" on for their pet than they would for themselves," (Wakefield Research) Advantek is sure that this product will catch on with this hip pet owning crowd.
-----
As you can see, Advantek understands the opportunity that millennials present to the pet industry. They are using these six techniques to take advantage of the sales potential that this generation presents. In fact, they've done everything from creating humane standards for their chicken coops to providing stylish portability to dog owners. Plus, there's still a lot more work to do in the coming years as they not only solidify their brand position for millennials, but also work to appeal to the next generation.

GET IN TOUCH

ABOUT THE AUTHOR
Ashley Hoffman – E-Commerce & Digital Marketing Manager joined the All Points family in 2015 and adds a little bit of fun to the team with her creativity and dumb jokes. Ashley is always on the lookout for the latest trends in marketing and applying it to how All Points does business. She is the blogging guru, social media master, e-commerce account management expert, and brand builder all in one. The best part is that she's the loving owner of two beautiful cats named Kitty and Chewbacca.
Click here to sign up for our monthly newsletter to stay up to date on current market trends in the pet industry
No Comment