Whew. Well, if there's anything we can all agree upon, it's that 2016 has been a wild ride, that's for sure. We experienced everything including Brexit, America's roller-coaster election, debates and bans on pet stores selling pets, Pokemon Go, the passing away of so many celebrities (RIP David Bowie, Prince), and so much more.
There's no doubt that 2016 was certainly one for the books, and this is no more or less true for the pet industry. As mentioned, debates and bans continue to threaten the selling of live animals at pet stores and breeders all over the country (and the world, for that matter). Independent pet stores have been feeling the pressure of rising e-commerce and big box sales, and doing their best to fight back. The humanization of pets has taken on a life of it's own, and is nowhere near a decline when it comes to manufacturing and marketing human-like products (especially food) for pets. Speaking of pet food, some new and popular trends have started taking off this year, potentially changing the game for the category that leads the entire industry.
These, and so many other factors, have greatly contributed to the whirlwind that has been 2016. As we bring the year to a close this holiday season, it's worth looking back and seeing how far we've come, and where we'd like to go starting in 2017.
Pet Food Trends
If we were to ask people to narrow this industry down to just one category, it's almost certain that most people would say some variation of "pet food." Of the $62.75 billion estimated dollars spent on pets in 2016, food alone makes up $24.01 billion, or about 38% (APPA). This dis-proportionate market share has definitely been felt over the year, and pet food trends lean more and more towards pet humanization.
The most prominent trend in pet food is, you guessed it, natural and grain-free (these days, it's nearly impossible to have one without the other). Believe it or not, the natural category alone has a 70% market share at $5.6B and a 7.6% growth rate year over year. Additionally, the grain-free category owns 37% of the market share at $3B and a 20.2% growth rate year over year (GFK).
Related Article: 6 Pet Food Trends Every Pet Professional Needs to Know
The next biggest trend in pet food is limited ingredients (which one of our brands just happens to specialize in). This trend specifically is due to the concern over ingredient recognition and manufacturing quality. After limited ingredients in pet food comes frozen pet foods, dehydrated pet foods, and finally freeze-dried pet foods. We can't forget to mention the rising popularity in raw pet foods as a possible solution to seemingly lower quality kibble for dogs and cats.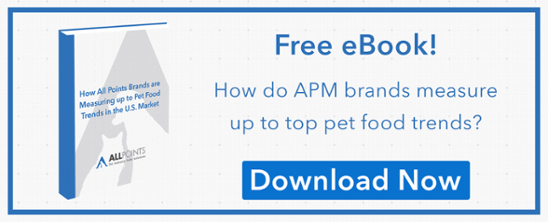 The Humanization of Pets
The three words that this industry can't seem to get away from: humanization of pets. Some are for it, others have growing concerns over the trend that seems to be taking over pet owners (sorry, pet parents) minds. We all know that our pet loving consumers are treating their pets more and more like family, and pet products are starting to reflect that more than ever this year.
Related Article: 3 Ways the Pet Industry is Becoming More Humane
While much of the industry is happy to accomidate this now-popular lifestyle, some still have their reservations about the trend. Anthony Bennie, founder and chief nutrition officer for Clear Conscience Pet, is one of those, and his reasoning is simple:
"If we buy into this concept "from soup to mutts" (go ahead, groan!), we will lose sight of the truth and think that cute names that sound like people food and have the words "natural," "holistic" or "organic" attached to them mean we are feeding our canines and felines properly" (Pet Age).
So, whether pet humanization is good or bad for the industry and pet owning consumers as a whole is a debate that we're sure is going to continue well into 2017 and for many years to come. It's also a primary contributor to the controversy that has become selling live animals (especially dogs) within pet stores.
Related Article: The Latest Pet Humanization Trend: Dog Food Trucks
Pet Store & Pet Breeder Debates
If you've been following our blog throughout the year, then you likely understand where we stand on the "pet stores selling puppies" debate, so we won't get into that right now. However, there's no doubt that there is a lot of tension in the industry currently which surrounds that discussion in particular. Pet stores are being banned from selling live animals unless they're from a rescue, and breeders (even the good ones) are being closed down left and right.
Fortunately, as a response, the industry came together and has started coming up with solutions. One of those is the Canine Care Certification that came out of Purdue's Center for Animal Welfare Science. This certification is a response to the accusations that USDA's current standards for breeders are not sufficient to ensure humane standards within breeding facilities. Because of that, the pet industry has taken it upon itself to fix the problem in a way that makes sense, without banning the responsible sale of pets at pet stores.
Related Article: Why We Shouldn't Just Adopt From Animal Shelters
In case you want to keep up on this topic, click the button below to access the map of bans and legislations in the United States which updates in real-time. You can also keep in touch with PIJAC, subscribe to their updates, and even become a member. It's important to keep pets in the pet industry, while also doing it responsibly and in a way that doesn't harm or put in danger any humans or animals.

Pet retail Mergers & Acquisitions
Throughout 2016, it seems as though everyone was merging with everyone. As independent pet stores fight back on rising e-commerce and big box sales, they may be banning together to become a force to be reckoned with.
While there were many pet retail mergers and acquisitions throughout the year, some of the major ones included:
These are just some of the top mergers & acquisitions happening in the pet specialty retail space. Now that these companies have come together, it will be exciting to see what the near year will bring for them and their vendors.
The Independent Pet Stores' Continued Struggles
Now that selling live pets isn't as much of a differentiating factor for the time being, independents are doing their best to stand out from the crowd by captivating the hearts and wallets of their local consumer base. Many smaller, local pet stores are specializing in value-added aspects including events in their neighborhoods, increased employee education and engagement with the consumer, personalizing the experience with their customers by remember their and their pet's names, and offering services such as grooming.
By incorporating these value-added services to the customer, many of these stores hope to combat the temptation many customers feel to just simply shop online. While seem to be concerned about the state of independent pet stores going forward, it seems that many are able to fight their way through the competition. According to Pet Business, "independents play a crucial role in identifying trends and introducing new products to market."
The Industry of Pets - A Summary
As you can see, there's a lot going on in this crazy, pet-loving industry. As we close out 2016, we can rest easy knowing that our beloved industry is growing, especially as pet owners get more passionate about their four-legged loved ones and therefore more inclined to spend. Although the official numbers for 2016 may not have yet been released (as it's still December, after all), a report does state that holiday sales were record-breaking for the year.
So, as you sit by the fire with your dog at the bottom of your feet (or, more likely on the couch next to you), sipping your eggnog and reminiscing on the year that has come to pass, take the opportunity to remember both the good times and the bad. The things that we accomplished and can aim to repeat in the coming year, and the things we should probably all learn from (seriously, no more pet food recalls would be nice!).
Goodbye, 2016. You were a fascinating, roller-coaster year in all aspects. We're looking forward to seeing what 2017 has to bring.
Note: If you're really in the holiday spirit, check out the holiday music video by Tiny Friends Farm, as Supreme's little critters wish you a very merry Christmas!
GET IN TOUCH
Download our app and keep in touch with us, no matter where you are!
ABOUT THE AUTHOR
Ashley Hoffman – E-Commerce & Digital Marketing Manager joined the All Points family in April of 2015. Ashley brings a fresh outlook to the marketing industry as well as a constant desire for learning something new. She is dedicated to consistently improving her skills and efficiency in the marketing industry and using those skills to promote APM and all brands we represent. Ashley has grown up with many animals throughout her life and is currently the loving owner of two cats.
Click here to sign up for our monthly newsletter to stay up to date on current market trends in the pet industry

No Comment