In a recent article, we discussed How to Get the Most Out of a Pet Trade Show, and specifically, preparing for SuperZoo 2016 which is now just a few weeks away.
If you have subscribed to SuperZoo's newsletters, then you likely got to the office and opened up your emails to their latest announcement which advertised the new Super Zoo app for 2016, available for download for iOS and Android.
According to the email, you will be able to use the app for a variety of trade show-related benefits such as viewing and tagging your favorite exhibitors, browsing the latest products, and planning a walking map.
With technology being more and more incorporated with trade shows, it's no surprise that SuperZoo is determined to stay ahead of the game. Although the event is still a few weeks away, we wanted to take a deep dive into how to make this particular piece of technology work for you, and not against you, at one of the largest pet trade shows in the world.
Related Article: How to Choose the Best Cat Food for your Pet Store
Easily Schedule Meetings
When attending the large pet trade show, chance are you have likely run into the stress and frustration that often comes with trying to schedule the three long days that are involved with events like SuperZoo. Some use Excel spreadsheets, the seemingly endless supply of scheduling apps, and even notepads to schedule meetings and note which booths you are interested in stopping by at the show. However, no matter how hard you try, unless you stay very organized and on top of all your notes, it always ends up just not working out exactly how you planned so far.
With the new SuperZoo app, we are excited to see that scheduling is just a couple clicks away. See for yourself, and follow these steps to test out scheduling a meeting:
Open up the app (if you haven't downloaded, please see the links in the 2nd paragraph and download, then come back)
Click "Exhibitors"
Choose your favorite exhibitor (Applaws? Advantek? Fibercore maybe? =P)
Click "Meeting" in the top left corner of the brand page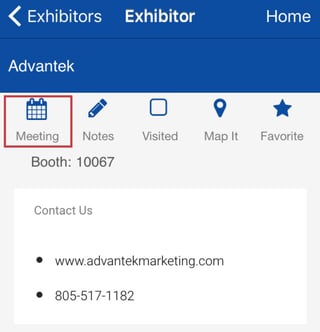 Select the date, time, and leave any notes if necessary (i.e. "Cool chicken coops, definitely need to check out!")
Your email app should pop up, prompting you to send an email requesting a meeting.
Pro Tip: If you don't need to send a request email (if you already have a meeting scheduled outside the app, for example), you can just close out of the email app, select "No" when it asks if you'd like a reminder, and visit your "Planner" under "My Itinerary," where you should see it listed.

Easily Schedule Seminars
Scheduling a meeting with an exhibitor takes a few more steps as you have to run it past the rep you are wanting to meet with. However, what if you want to schedule a visit to a seminar? It's as simple as 1-2-let's go learn some pet stuff.
Open the app (you should have it downloaded by now from the first tutorial)
Click "Schedule"
Select the date at the top by clicking the right arrow (unless you'd like to schedule for August 1st)
Scroll and find the seminar you are interested in
Click the seminar
Click "Add" in the top left corner by the calendar icon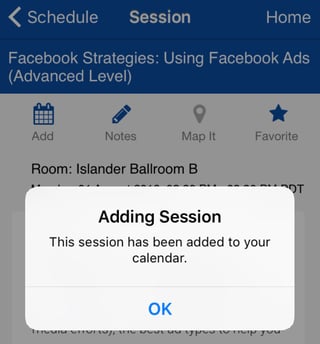 That's it - the seminar can now be found in your phone's calendar. It appears an automatic reminder is set for an hour before, at least on iOS, so if you'd like to change it you'll have to go into your phone's calendar app, find the event, and set a custom reminder.
Related Article: 3 Ways to Save Money as a Pet Store
Never Get Lost (Again)
One of my favorite benefits to using the app is the ability to easily find the exhibitor you are looking for on the map. Not only will the app locate the exhibitor, but it will also locate you based on whichever exhibitor you are currently near.
In order to use the app as a navigator, follow these steps:
Open the app
Click "Exhibitors"
Choose your favorite exhibitor (Advantek? Estes? Smokehouse?)
Click "Map It" on the top right, to the left of "Favorite"
Click "Locate Me"
Type in an exhibitor name (For example: Applaws)
You will now be able to see where you are in relation to where you want to go.
Pro Tip: Unfortunately, it won't show you where you are and where your goal is at the same time, but if you take screenshots of both you should get a decent idea so you don't get lost!
Those are some of our favorite benefits of the new SuperZoo app and ways to access them. Have you discovered anything else that you're excited about? Share in the comments below!

GET IN TOUCH
Like our Facebook page.
Follow our Twitter.
Follow our LinkedIn.
ABOUT THE AUTHOR
Ashley Hoffman – E-Commerce & Digital Marketing Manager joined the All Points family in April of 2015. Ashley brings a fresh outlook to the marketing industry as well as a constant desire for learning something new. She is dedicated to consistently improving her skills and efficiency in the marketing industry and using those skills to promote APM and all brands we represent. Ashley has grown up with many animals throughout her life and is currently the loving owner of two cats.
Click here to sign up for our monthly newsletter to stay up to date on current market trends in the pet industry
2 Comments