Oh Fall - the season that seems to pass by so quickly that we nearly miss it while we spend so much time preparing for the upcoming holidays. As we pass around holiday promotions, it's all too easy to forget about the lovely weather, colored leaves, and Pumpkin Spice Latte craze that we call Autumn.
However, as this week is the official start of Fall, we thought we might take you back a bit and remind you of some of the reasons the pet industry loves Fall. With 1 in 10 pet owners now planning to buy Halloween costumes for their pet (no, really), it's a great opportunity to consider additional add-on items to capture them on as they are in the seasonal mood. While Halloween costumes for dogs might be the primary consideration for many of your customers, there are definitely a few other pet products to consider for fall.
1. Halloween Costumes for Pets
This is the most obvious out of all of them. With Halloween costumes for pets trending so high, many pet retailers are choosing to opt in and follow along instead of risking falling behind. There are so many options for Halloween costumes for pets these days, but there are a few that really stand out in popularity. The top Halloween costumes for pets this year are as follows (thanks to the National Retail Federation):
Pumpkin
Hot dog
Batman
Devil
Dog (original)
Cat (also original)
Star Wars
Bow ties/Bandanas/Collars
Shark (tie)
Princess (tie)
Minion
While many of these may not be the most unique ideas, they are definitely the top sellers. One way to encourage more sales is to offer items at the point-of-sale that relate to these costumes and encourage them as impulse buys. Some may be off-limits due to licensing issues (Batman, Star Wars, Minion, ect.), there's certainly a lot that can be done with the others. One of the easiest ways may be to offer pet food and treats with pumpkin to encourage an on-going theme.
Pro Tip: Consider throwing a pet fashion show at your store with costumes they can purchase right there! Come up with a way to determine the winner and reward them with a basket of Fall-themed goodies for their pet. It's a great way to generate engagement and excitement within your store this season!
2. Pumpkin Spice
Lattes

Dog Treats

We humans seem to have an affinity with pumpkin spice lattes, but are pumpkin spice treats and food actually good for dogs? In a recent article, we explored that topic using the Fruitables Pumpkin Spice treats as an example.

We uncovered the fact that pumpkin is a great source of nutrition for dogs. It is a perfect blend of soluble and insoluble fiber which works to slow down digestion. This slowing-down process increases the feeling of fullness and also increases moisture in the digestion tract to assist nutrient absorption.

More information can be found by downloading this free infographic which we encourage you to share with your customers and educate them on the benefits of pumpkin.

You may have heard of Fruitables' pumpkin spice treats in the past and even seen their fun and cute Halloween-themed packaging. This year, the brand has re-vamped the packaging and changed it from Halloween to Fall themed in order to expand the shelf life of the product. Feel free to contact us to receive more information on how you can get these treats in your store.
Of course there are plenty of other fun dog treats out there as well! Some companies offer pumpkin-shaped dog cookies in the bakery section, adding some fun and excitement to your dog's usual treat regimen.
Related Article: The Benefits of Pumpkin in Dog Food and Treats
3. Cat Food with Pumpkin
Dogs aren't the only ones who get to have all of the festive fun! In fact, including your feline-owning customers is a great way to boost your in-store sales. In case you haven't noticed yet, pumpkin is kind of a big deal this time of year. A great way to capture this opportunity is by creating an end cap that features several pumpkin-related products, including limited ingredient and all natural cat food with pumpkin from Applaws.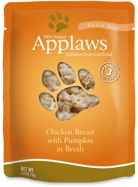 Believe it or not, cats love pumpkin. In fact, one of Applaws' top sellers is the chicken and pumpkin products. Merchandising a pumpkin-themed end cap is easy with these products as they are limited in ingredients (chicken, broth, and pumpkin) and the pouches feature an eye-catching and friendly orange that will blend well with other pumpkin-inspired pet products.
Related Article: The Benefits of Having Limited Ingredients in Pet Food
Pro Tip: Merchandise Applaws chicken with pumpkin near a festive bowl or cat toy in order to build up basket size for your cat loving customers!
4. Halloween-Inspired Dog and Cat Toys
Another popular section throughout pet stores this time of year are the Halloween-inspired dog and cat toys. As consumer demand for these fun pet products rises, manufacturers are making them cuter and higher quality than ever, making it hard to pass up for the pet owner who is looking to spoil their dog or cat.
In order to fully take advantage of the large selection of the pet products to consider for Fall, it's crucial to think about adding Halloween and Fall-inspired dog and cat toys. Don't worry, there seems to be plenty of pumpkin related toys available as well, in order to help build up that end cap and offer a decent selection of products.
5. Literally Anything Pumpkin or Halloween-Related
In case you haven't noticed a theme in the four other pet products that we recommend considering for Fall, you will essentially be safe with merchandising anything that features pumpkin or Halloween themes. We personally think pumpkin is great for longevity because you won't have to deep discount right after Halloween.
The name of the game is engagement with your consumers. You want them and their pets to have fun when coming in your store. Think of it as the next Party City for pet owners, except with a lot less screaming children, scary witch masks, and that lingering smell of helium mixed with very cheap plastic.
Related Article: How to Compete Against E-Commerce as a Brick and Mortar Pet Store
Pro Tip: A great way to engage with your customers both online and offline is by encouraging them to take photos of their pets dressed up and posting them to their social media under a hashtag related to your company. For example, if we were to do one, it could be something like #APMMonsters. Then, make sure you engage with them online and share their photos to your other customers. People love taking pictures of their pets, especially dressed up! This is also a great way to get involved with a manufacturer who may partner with you and get even higher engagement rates. It's a win-win!
How do you dress up your store for Halloween? Comment below - we want to see pictures!
Ashley Hoffman – E-Commerce & Digital Marketing Manager joined the All Points family in April of 2015. Ashley brings a fresh outlook to the marketing industry as well as a constant desire for learning something new. She is dedicated to consistently improving her skills and efficiency in the marketing industry and using those skills to promote APM and all brands we represent. Ashley has grown up with many animals throughout her life and is currently the loving owner of two cats.
Click here to sign up for our monthly newsletter to stay up to date on current market trends in the pet industry.
No Comment