Believe it or not, that time of year has now arrived: Halloween is over, and Christmas decorations have officially taken over every retail store in America. Many different industries are gearing up for what is expected to be a big year. According to the National Retail Federation, holiday sales are forecasted to increase about 3.7% to $630.5 billion. While this is a slightly smaller growth than last year's 4.1%, it's still something worth preparing for.

We all know the big tech companies and toy industries have a lot to prepare for, but what about the pet industry?
Although pets have always been top of mind for pet-owning consumers, pet food just really isn't very seasonal, just like how a loaf of bread for human consumption is hard to make seasonal. However, as consumers are more likely to spend money during the holidays, pet supply manufacturers and retailers are figuring out how to take advantage of the increase in sales. Pet owners are humanizing their pets more and more, which is allowing for the pet industry to have a bigger presence in consumers' minds throughout the holidays.
Pets Want Christmas Gifts, Too
While cats, dogs, or rabbits maybe don't quite understand the idea of Christmas, there's no doubt of the joy they get out of receiving a new treat or toy. While consumers always have the chance to spoil their fur babies throughout the year, there's just something a little bit more special about treating them at Christmas. As the humanization of pets grows to be a bigger trend, pet owners are treating their four-legged furries more and more like their children: and this includes giving them gifts at Christmas.
According to the American Pet Products Association (APPA), around 50% of dog owners and 38% of cat owners buy their pets gifts for the holidays (including Christmas or Chanukah). This spending is varied by generation, however, so you can tailor your expectations based on your target market. For example, Generation Y (Millennials) spends nearly twice as much per gift as Gen X and Baby Boomers. This means approximately 39 million dogs and 32 million cats will be spoiled like children during the holiday season!
The infographic on the right was put together by qSample and shows pet spending on gifts for 2013-2014. While slightly outdated, it gives an interesting look into how consumers were spending their money a couple of years ago, and can be used to forecast some of this year's trends.
Adapting to Holiday Trends in Pet Retail
Taking advantage of consumers' tendency to spend more money on their pets during the holidays is something that's on everyone's mind within this industry. However, it can often be easier said than done. It requires offering the right product assortment, at the right price, at the right time. With Black Friday just a few weeks away, many pet retailers already have an idea of what they're planning on offering for one of the biggest shopping days of the year. However, as Black Friday isn't expected to be quite as big this year, it's crucial to offer the right products now through the end of Christmas day, and even afterwards.
Although many pet retailers have their selection for holiday pet products already sorted out for the season, some may still be wondering which types of products are best to stock and promote. A good bet is to offer seasonal pet products, such as red & green colored toys, sweaters, and winter-themed items. As consumers begin decorating their homes for the holidays, they will want to include Fido in the celebration by dressing him up and keeping holiday-related items around the house for him to play with. Another great option, and one that is seeing tremendous growth in the past couple of years, is seasonal pet treats.
Seasonal Pet Treats
Seasonal pet treats have been on a sharp incline, particularly over the past few years. The data presented by GFK in association with Pet Food Industry shows that seasonal pet treat sales between 2014 and 2015 have increased 266% from$3.8M to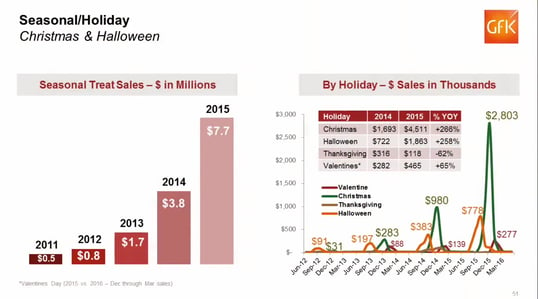 $7.7M, and is expected to grow throughout 2016. What does this mean for retailers? Those stocking the right seasonal pet treats should expect to see a particular growth in sales within this segment.
With so many pet treats to choose from, it can be hard to decide which should be merchandised and presented particularly for the holiday season. Fruitables has come up with a solution for this by offering a delicious and fun Vanilla Snowflake dog treat, which is actually made with real snowflakes! Snow is collected just for the production of these treats, and up to 300 snowflakes are within each pack of treats. It's a great seasonal pet product that has a fun story behind it, and ends up being a great stocking stuffer for those with stockings for their pets (who doesn't have a stocking for their pet??).

As with anything, proper merchandising is required to ensure sell-through before the holiday season is over. Merchandising seasonal product such as pet treats and toys as a "stocking stuffer" end cap or other clever merchandising method will ensure your customers have tons of fun shopping for gifts for their pets.
We want to hear from you - How do you ensure holiday sales are up overall? Do you have a clever merchandising strategy, host engaging events with the community, or share lots of interesting content online? Reach out to us over social media, or send an email directly to ashley@allpointsmarketing.com with your answer! We'd love to hear some feedback from those who have succeeded in the past!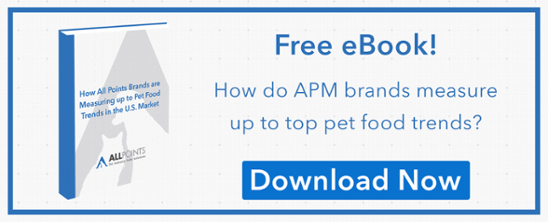 GET IN TOUCH
Download our app and keep in touch with us, no matter where you are!
ABOUT THE AUTHOR
Ashley Hoffman – E-Commerce & Digital Marketing Manager joined the All Points family in April of 2015. Ashley brings a fresh outlook to the marketing industry as well as a constant desire for learning something new. She is dedicated to consistently improving her skills and efficiency in the marketing industry and using those skills to promote APM and all brands we represent. Ashley has grown up with many animals throughout her life and is currently the loving owner of two cats.
Click here to sign up for our monthly newsletter to stay up to date on current market trends in the pet industry
No Comment