Ahh, the holidays. A traditional season of torture for our pets. All the smells, the people, and not even a scrap for the road! This year, show your pet you care. Give them a tasty, nutritious treat from Novipet. They will thank you for it.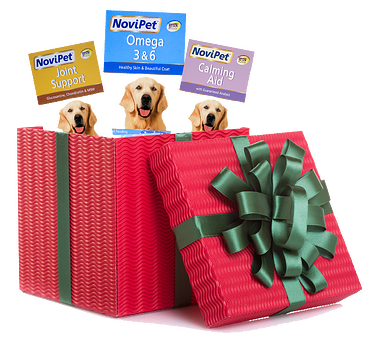 We know, we know. It is easy to get caught up in the holiday season with all the parties, cooking and decorating but let's not forget about our client's four-legged friends! The poor pups have to watch gobs of delicious food being made and be around so many new people. And how about all the confusion our cats must endure as they learn [or not] to stop jumping into your Christmas tree. With the holiday season quickly approaching, your client's pet deserves to be a part of the festivities.
Why this matters this selling season:
NoviPet is on a mission to give pets a tasty and healthy Christmas present worth slobbering over. NoviPet's food supplements for dogs and cats are the perfect way to show your pet you care! Not only are the treats delicious, they contain top notch nutritional elements including:
Joint support: Provides an excellent source of glucosamine, chondroitin & MSM to promote joint health and flexibility.
Omega 3 & 6: Support healthy skin, coat and immune system.
Multi Vitamin: A soft-chew supplement delivering a blend of vitamins and minerals.
Your client's pets are a part of the family, they will not want to see them suffering from any avoidable health issues. NoviPet's products aid a lot of different problems for these pets. Each formula helps tackle an issue unique to your client's pet, producing a better quality of life and a happy owner.
Clients will no longer have to force their pets to take healthy supplements because NoviPet's formula is so tasty! Imagine the look on your client's pet's face when it sees NoviPet under the tree on Christmas morning. Talk about a treat your pet will love in the midst of all the holiday chaos.
No Comment