Discussions around the threat of e-commerce to brick and mortar pet stores often circle around one e-retailer in particular: Amazon. The retail giant has undoubtedly taken off in the last decade, starting with books and growing to the point where it stands today: offering (just about) everything from a to z.
Going back to its roots, Amazon opened its first brick and mortar book store in November 2015. This was significant as it was the retailer's first physical store format.
Amazon Books is a perfect example of an e-commerce retailer being translated into a brick and mortar location. It is for this reason that we chose to go outside of the pet industry, just for a second, and identify the basic reasons for this retail chain's success.
Setting the Scene
Near Amazon's headquarters in Seattle, Amazon Books is located in University Village, the upscale shopping district that lies right outside of University of Washington's campus in North Seattle. The building rests on the edge of the outdoor mall, finishing off a row of upscale stores and landscaped with potted flowers and a modern fountain.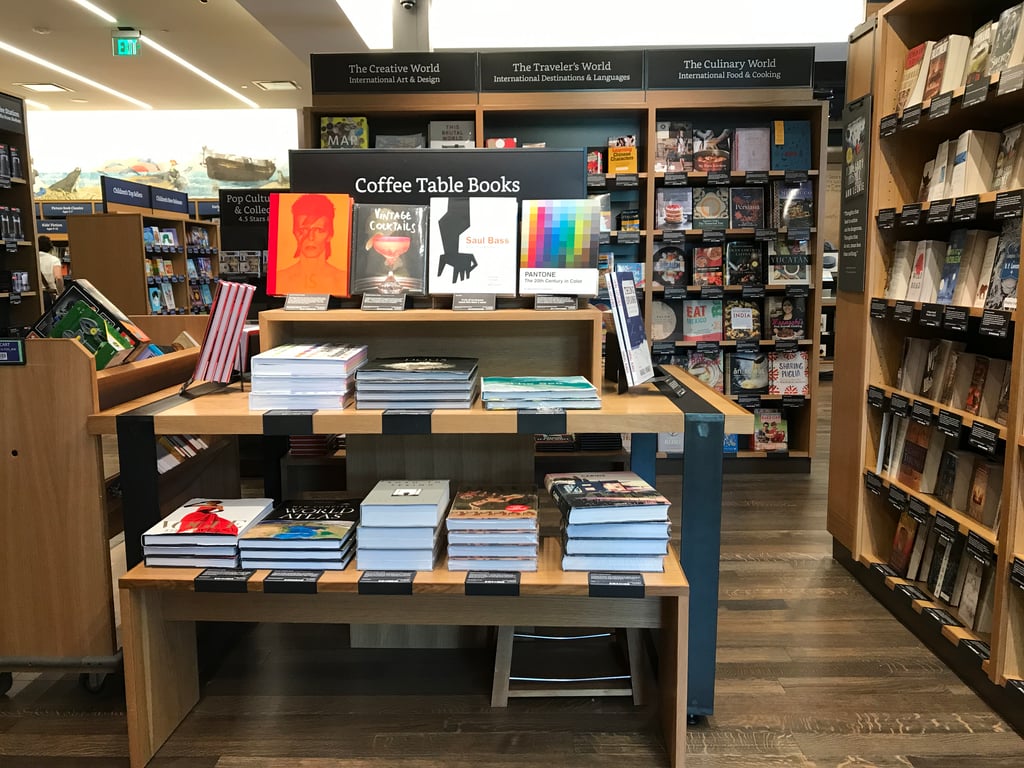 The Amazon Book store is everything that the Amazon is not - and is - all at once. The fairly new brick and mortar retailer offers an upscale, curated shopping experience at an affordable price.
Upon opening the grand wooden doors inset with glass, you are greeted with the classic smell you'd expect from a book store. Shelves are lined according to genre and tables are set out around the store with featured sub-sections, such as "Coffee Table Books" or "Read Local."
The center of the store is reserved for the experience of their many tech products. These include products such as the Kindle, Echo, and even Fire TV.
Related Article: Is E-Commerce a Threat to the Pet Industry?
Designed to Engage and Educate
It is nearly impossible to spend less than at least an hour inside Amazon Books. The displays are designed to capture your attention based on what you are interested in, and keep you searching for more. Where many bookstores show only the books' binding, Amazon keeps every book front-facing as to capture the shoppers' attention and keep them browsing.
What truly stands out about the store is the fact that there are no labeled prices or standard barcodes. Rather, the front of each front-facing book features a large black rectangle.
The placecard doesn't have a plot summary, a price, the UPC, or any other element that is classic to a product display.
Instead, it's titled with "Amazon Customer Review" and displays one featured review that is taken from the book's product page online. The reviews are usually somewhat descriptive, and go to the core of what makes the book so great.
Below the review is a star rating and number of reviews (i.e. 4.1 stars - 328 reviews) and a date from when the data was captured. Lastly, there's a single barcode at the bottom of the information card leading to the book's product page on the website.
Related Article: How to Improve Customer Experience in Your Pet Store
The Omnichannel Experience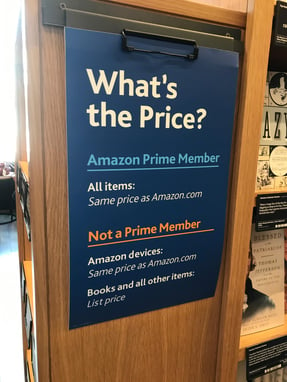 At this point, you may be asking, "What about the price?" The price of each book in the store depends on one thing: whether or not you are a Prime member.
Prime members pay the price the book is currently selling for on Amazon.com. Meanwhile, non-Prime members pay the price printed on the back of the book.
Prime members always get the best deal, with book prices being anywhere from 15-50% better than the printed price. You don't even have to wait for two-day shipping!
To say that this form of lead generation is genius is an understatement. Although "Check the price" stations are located throughout the store, the easiest way for Prime members to access a book's price is by scanning the barcode with their Amazon app.
Using the camera icon on the app, customers can scan the book and instantly get a product page pulled up on their phone. From there, they can access all the regular online features such as product reviews, price, plot summaries, and the option to add it to a wishlist in case they aren't ready to buy it right then and there.
Related Article: 5 Ways to Become a Mobile Friendly Pet Store
Personalization and Curation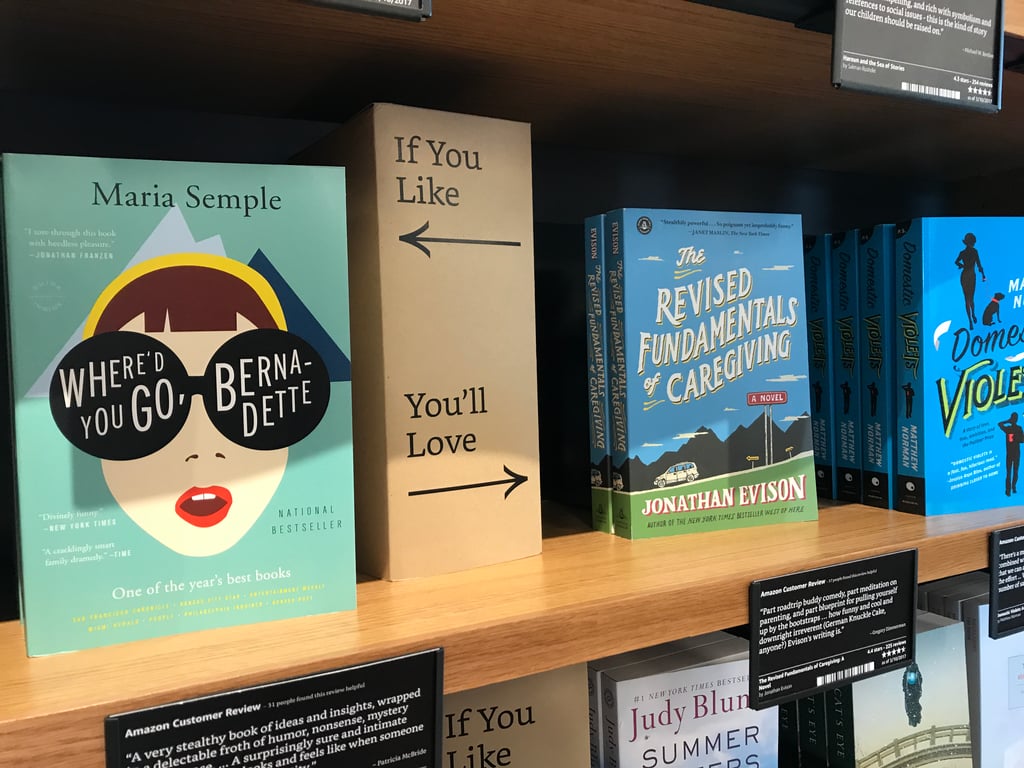 Did you love Girl on the Train? Well, here's three books that readers like you also loved. How about The Boys in the Boat? These books will captivate you just as much, if not more, as that book.
Amazon's book selection is highly curated based on the data on their site - a fact that has allowed them to succeed where similar bookstores (i.e. Barnes & Noble) are failing.
Even if you walk into an Amazon bookstore not knowing what book you're looking for, you'll be hard pressed to leave without at least five new books on your reading list. The personalized curation is done so well that books practically leap out at you as you walk by.
The "If You Like…" section allows readers to identify a popular, likely best-selling, book they have already read and find books that are very similar to it. This establishes a higher sense of trust within the category and the books that are suggested.
Another section titled "Page Turners" offers a selection of books that Kindle readers were found to have finished within three days or less. The placement of this display is cleverly done as well, as it sits right next to the checkout stand. As you approach the checkout, you can't help but wonder whether they are actually that good. And hey, if it's such a small time commitment with seemingly great reward, why not try it out?
Making Shopping Efficient
By now, you've spent an hour and a half in the store picking up books, reading reviews online using Amazon's mobile app, and calculating your price savings (maybe that $99 membership is worth it after all!). Now, it's time to checkout.
In most retail situations, this is the customer's least favorite time. They've finished their shopping, and now all they want to do is buy the stuff and get out of there. Unfortunately, the checkout process isn't always as quick and efficient as they'd like it to be.
Amazon speeds up the checkout process and makes it, dare we say, just as easy to check out in the store as it is to check out online. Yes, that includes the one-click buy button on most product pages.
As long as you have, and know how to use, the Amazon app, check out takes less than 30 seconds at the physical counter. It's as easy as:
Scan the QR code at the beginning of the line using that handy-dandy camera feature on the app we mentioned earlier

Bring the book and your phone to the cashier at the checkout stand

Make small talk for 15 seconds as they scan the book, scan the app, and have you sign the tablet in front of you with your finger.
That's it. The mobile app accesses your card information stored on your Amazon account to make the purchase, and your receipt is emailed to you (although they can provide you a printed version as well, on request).
You now have your new book(s) and can walk out just like that. No two-day shipping and no pick up at an Amazon locker - all while getting your Prime member discount.
Translating to the Pet World
Alright, it's now time to leave the world of novels, biographies, and cookbooks and return to the pet industry. By now, you're probably telling yourself, "that's great and all, but how does this relate to my pet store?"
The idea is to take bits and pieces of these techniques and apply it to your own brick and mortar pet store. Unfortunately, you may not have the massive amounts of data and curated product reviews on hand. Yet, you do have your own data and can implement certain aspects on a smaller scale.
For example, here's a few ideas using these concepts that you can apply to your own store:
Related Article: How to Compete Against E-Commerce as an Independent Pet Store
1. Engaging and Educating
Take some of your top selling products in each category and create a stage around them. Get feedback from top customers and feature it on a place card in front of the product.
Pro Tip: You can even make a social media campaign out of this! Ask your customers to offer 1-2 sentence feedback on featured products each week for a chance to win a coupon and the opportunity to have their review be featured in your pet store.
2. Creating an Omnichannel Experience
If you haven't already, it's time to up your game when it comes to maintaining your web presence. Not only will your customers be able to use your website to find you, but you can also improve the shopping experience by bringing them to your website when they're in your store.
Create a brand page for each brand you carry and feature top-selling products they might be interested in. Then, have a barcode or QR code printed out by each brand's section (if brand blocked) that directs the customer to that web page. Offer product reviews, more information, and even helpful articles that relates to caring for the pet the product relates to.
Pro Tip: Work with your vendors to get the content required to make these pages possible. It will save you much more time and resources, and give you a chance to engage with your vendors beyond the regular communication.
Related Article: Pet Business Marketing Guide - Step Two: Managing Website Presence
3. Personalization and Curation
While you might not have the massive amounts of data that Amazon boasts, you do have your own sales reports to reference. Choose top-selling products and design creative end cap displays around them.
Go the next level and take note of which products are often bought with each other. For example, new puppy owners will need puppy food, dog bowls, puppy pads, waste bags, a collar, a leash, and more. Find the products that stand out to these types of pet owners and really make them stand out.
4. Quick and Efficient Checkout
Designing an app might not be in your budget at this time, but what about implementing a mobile POS? These new checkout methods are taking the retail world by storm, as they offer quick and easy ways for customers to check out on the floor.
Don't forget to capture customer information if possible! Tie it to a loyalty program that gives them points for shopping and make it worth their while. This way, you can track their purchases and further improve the personalization aspect of shopping in your store.
Final Notes
E-Commerce isn't going away, but that doesn't mean brick and mortar pet stores are going to either. As long as you are able to adapt to your customer's shopping habits and keep up with the trends, you are more likely to succeed in an ever-digital world.
When you're deciding upon your new strategy for competing against e-commerce, take online retailers' advantages into consideration. There might just be a way you can implement similar strategies in your store.
GET IN TOUCH

Click here to sign up for our monthly newsletter to stay up to date on current market trends in the pet industry
No Comment