Identifying a high quality small animal food is not easy, especially when there often isn't enough time or resources to dedicate to a category that caters to only 7% of pets in the United States. However, it's important to evaluate what's available in the market so you can ensure you're providing your customers with the best.
There are many options when it comes to the small animal market in the United States. One brand that has made strides in European markets by becoming the leading global brand is Supreme petfoods.
Their approach is different than most because their goal is to not only provide small pet owners with high quality small animal food, but also promote education and engagement within the category as a whole.
Here's four ways Supreme Petfoods stands out from the competition within the U.S. market.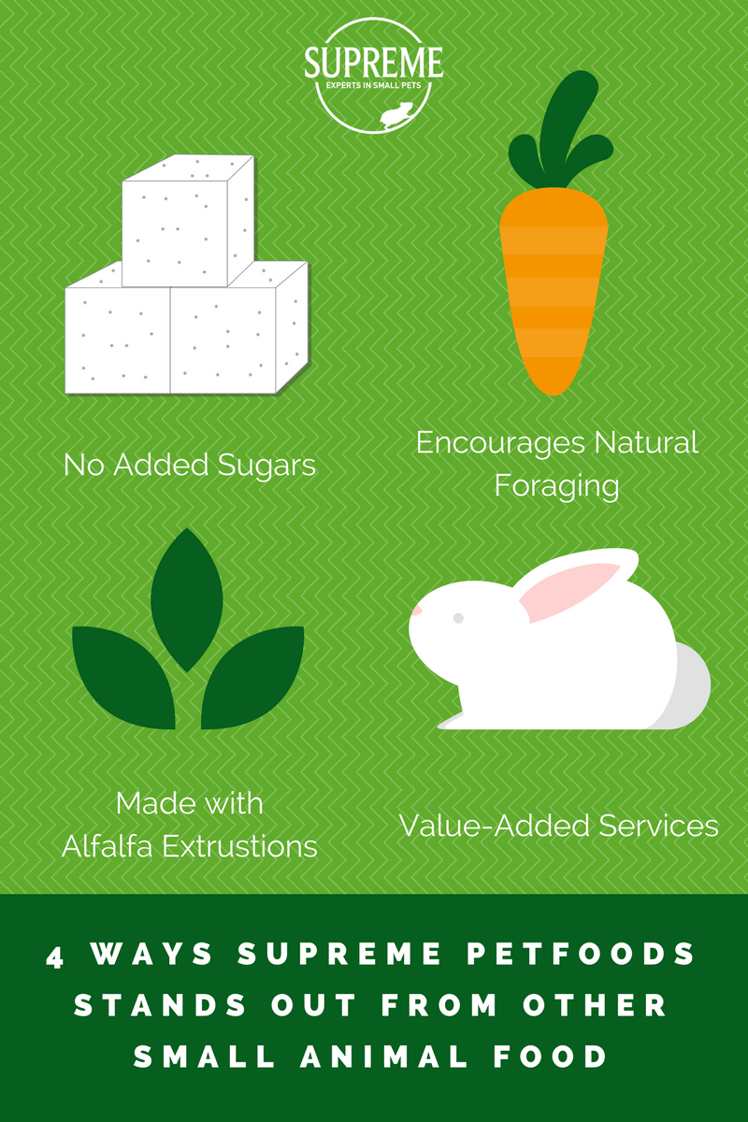 1. No Added Sugar
Supreme Petfoods worked with veterinarians to determine that sugar added in pet foods can be dangerous for your pet. These additives can damage teeth, lead to digestive upsets and cause damage to the skin.
What counts as added sugars? Reading the ingredient panel on the bag, you may find hidden added sugars in the form of molasses, syrup, glucose and sucrose.
Often, small animal food manufacturers will add sugar to make their food more palatable for small pets. This is because, in the manufacturing process, all the flavor of the vegetables that small pets such as rabbits and guinea pigs love is cooked out and the end result is a pellet that isn't very tasty. The addition of sugars means that pets will be more likely to eat the food without being picky, but it does them no favors in terms of their health.
Supreme is committed to ensuring all recipes have no added sugar. Their Science Selective line of food is able to succeed without added sugar because of the way the food is manufactured: with Alfalfa extruded pellets.
2. Made with Alfalfa Extrusions
Supreme's Science Selective line of food is a mix of specie-specific Alfalfa-extruded pellets. This process ensures the quality and the taste of the pellets stays at optimal level. Because hay should make up about 80% of a rabbit's diet, it's important that the food they eat supports their hay-filled diet.
Not sure what the difference is between Alfalfa and Timothy hay? Supreme published an article explaining what makes Alfalfa unique, especially when compared to Timothy hay.
Alfalfa is a great option for baby rabbits because of the higher amounts of calcium and protein. These higher nutrition levels allow for healthy growth and development in a baby rabbit. However, once they grow older, it may be smart to move them to a hay with less protein and calcium, such as Timothy or Meadow hay.
Although Alfalfa hay should be avoided in an adult rabbit or guinea pig's diet on its own, it's actually a great ingredient in a balanced food diet. According to Supreme, "Alfalfa, as part of a balanced recipe does not present the same issues associated with feeding Alfalfa as a hay." In fact, when used in a balanced diet recipe, it acts more as a superfood, offering benefits such as:
High levels of fiber (the most important element of any rabbit's diet)

Balanced calcium levels

Essential amino acids and vitamins.
As you can see, although Alfalfa as a stand-alone hay is better for baby rabbits, when used in a complete and balanced diet, it becomes a delicious and nutritious ingredient for rabbits and guinea pigs of all ages.
Click here to read more about the difference between Alfalfa and Timothy hay.
3. Encourages Natural Foraging
Supreme's Tiny Friends Farm brand of small pet food actually quite differs from the Science Selective recipes. Rather than being a mono-component diet, this every day small animal diet is made with varied ingredients that are optimized to be nutritionally specific for each species of small pet.
Because of the variation of the product, Tiny Friends Farm encourages the natural foraging behaviors that many small animals instinctively have. Rather than including ingredients that are unhealthy for the pet, Supreme ensures each and every ingredient provides nutritional value to the particular species the food is targeted to.
One concern for the variation in the product, however, is selective eating. Some pets are more prone to be selective about the food they will and won't eat willingingly. With a diet that contains so many varied ingredients, it's easier for them to miss out on some crucial nutrition.
If your customers are finding that their pets are selective eaters, Supreme's Science Selective mono-component small animal diet is a great answer to those concerns. Not only will the Alfalfa provide them with plenty of nutrition, but the extruded pellets are so tasty that many pets will eat it all right up, getting the nutrition they need on a daily basis.
4. Value-Added Services
Supreme Petfoods is not only a company with two fantastic brands of small animal food. They are also committed to partnering with key retailers to ensure consumers make the right purchase decision.
One example of Supreme's retailer support is their recent package redesign on their Tiny Friends Farm brand of small animal products. The packaging has been specifically designed to assist in the shopper's journey by creating doors and windows to each animal specie in the aisle. They understand that not every retailer may know the best way to take advantage of the new designs, so they worked with us to create a plan to support merchandising assistance in pet stores.
Another example of Supreme's retailer support is their rabbit revolution toolkit. This kit has been designed to provide retailers with everything they need to start a conversation in the small animal aisle. The rabbit revolution is all about correcting the large amount of rabbit misinformation that can be found on the Internet today, which has been found to confuse small pet owners about the realities of what is and isn't good for rabbits.
---
Identified as experts in small pets, Supreme Petfoods understands small animals and their owners from the inside out. They know what drives shopper behavior including the shopping journey and what actually drives purchases within the category.
Supreme's two brands of small animal food (Science Selective and Tiny Friends Farm) stand out from the competition because they have no added sugar and promote health and wellness in small pets through their unique recipes.
To sum it up:
Science Selective is an extruded mono-component Alfalfa pellet that provides small pets with balanced levels of protein, calcium and fiber.

Tiny Friends Farm is a delicious muesli that promotes natural foraging behaviors that are instinctive to many small animals.
Finally, Supreme offers in-depth retailer support for their customers in the United States and beyond. They promote services that ensure consumers are fully educated on being responsible pet owners and providing their small furries with nutrition that allows them to live happy and healthy lives.
GET IN TOUCH

Click here to sign up for our monthly newsletter to stay up to date on current market trends in the pet industry
No Comment