Global Pet Expo is finally here and we're excited to see all the pet industry trends present themselves at this amazing (and giant) pet trade show. Over the last few months, pet professionals have been rushing to prepare for this event and now we get to spend three days walking the show, seeing the latest and greatest in pet products, and meeting all types of people.
In our opinion, pet trade shows like Global Pet Expo are especially great for three things:
Learning about new products in the marketplace
Witnessing pet product trends for the coming year
Networking with like-minded individuals in our industry
We can't wait to witness and explore the wide variety of pet industry trends that are bound to be present at the show. As of now, we have a decent idea of where U.S. pet food trends are at. We also have first-hand experience with how some manufacturers are working to understand consumer demand in pet containment. With that said, trends change, and we're excited to see where they're headed for the end of 2017 through 2018.
Once the show is over, we'll be summarizing our experience with new pet products and pet industry trends we identified at the show. Until then, based on our knowledge of where our industry currently stands, here's our estimations for what we think we're going to see at the show: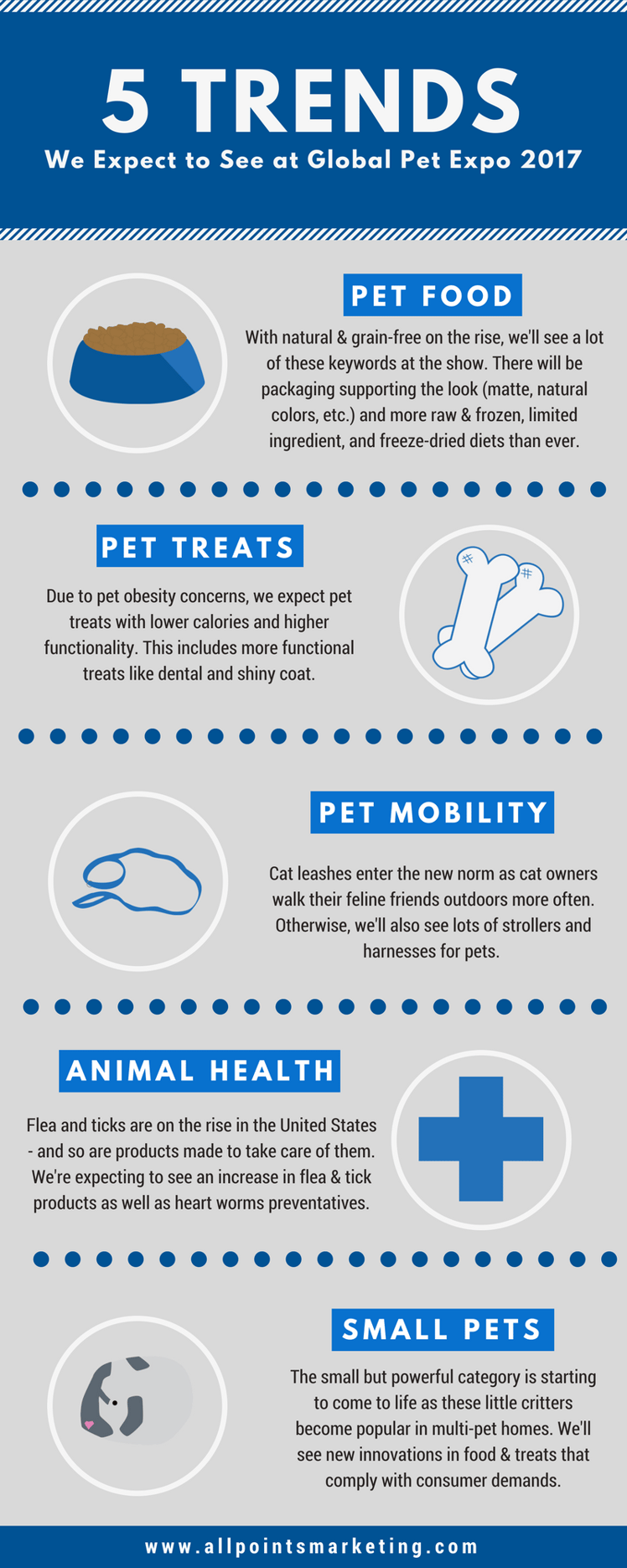 1) Pet Food
With natural & grain-free being the top keywords in pet food, we expect there will be a metaphorical explosion of these products at the show - or at least, products that claim to be. We're looking forward to a lot of packaging design reflecting this trend (browns, greens, photos of vegetables). We expect pet food manufacturers will also explore previously niche markets such as raw & frozen, limited ingredient, and freeze-dried pet foods.
Related Article: 6 Pet Food Trends Every Pet Professional Needs to Know
2) Pet Treats
With the rising concern over pet obesity, we expect manufacturers will respond with pet treats that are lower in calories and higher in function. In other words, there will be an increased focus on functional dog and cat treats that not only act as a reward for the pet, but will also offer a side benefit. The actual benefit may vary, but we expect dental health to be a major player in the game.
Related Article: 4 Reasons We're Excited for Global Pet Expo
3) Pet Mobility
Seeing a cat on a leash used to be considered weird and out of the ordinary. However, as concerned pet owners are keeping their felines indoors more often, they are opting for this safer way of allowing their kitties to explore the great outdoors. We expect a significant increase in everything from cat leashes and harnesses to pet strollers. This all continues to point the pet industry in the direction of pet humanization.
Related Article: How to Get the Most out of a Pet Trade Show
4) Animal Health
Flea and ticks are on the rise in the United States, and along with that comes the rise of products to help take care of them. According to Senior Consultant Dr. Lynn Fondon in a new study from Brakke Consulting, "the flea control and heart worm preventatives market has been one of the most innovative areas in animal health..." Therefore, we expect to see an increase in these types of products at the show.
Related Article: Promoting Healthy Pet Food to Fight Rising Pet Obesity
5) Small Pets
This small but powerful category is starting to come to life as small mammals become popular pets for multi-pet owning homes. We're looking forward to seeing new innovations in small animal food including those pet food extrusions we were talking about earlier. We'll also look to see whether manufacturers are improving their recipes to comply with consumers' demand for higher nutrition.
Related Article: How to Rock the Small Animal Category
GET IN TOUCH
Want to receive more pet industry insight? Sign up to receive our newsletter!
Click here for more information about the All Points family.
No Comment