Which scenario would you prefer?
Decide you want a book. Open up your internet browser to find a bookstore near you. Find one close by. Put your shoes on. Grab your wallet. Get in your car. Find out you're out of gas. Go to the gas station. Fill up your car. Drive to the bookstore. Get stuck in traffic. Finally arrive at bookstore parking lot. Find parking. Honk at two cars and one pedestrian on the way. Walk into store. Browse the sections until you find your book. Wait in line. Purchase book. Drive home in more traffic. Total time: 3 hours
Decide you want a book. Open your internet browser to search for the book. Find it online. Click "add to cart." Checkout. Process payment. Get book in two days. Total time: 5 minutes (plus 2 days shipping).
Consumers make these decisions on a daily basis: spend hours fighting traffic to get something they need the day of, or opt to wait a few days in exchange for the convenience of shopping in their living room?
These decisions are what's driving the force behind e-commerce's threat to the pet industry. Brick and mortar pet stores are doing everything they can to compete with online retailers such as Amazon and Chewy.
Fortunately, there's many ways for independent pet stores to stand out from their online competition. These include:
While these are all great strategies to compete with e-commerce, there's one more way you can fight back. As the saying goes, "if you can't beat them, join them!"
In other words, setting up your own e-commerce pet shop, or at least including elements such as delivery, is a great way to stand out from your competition.
Believe it or not, getting started is easier than you think.
Step One: Choose a Platform
The market for e-commerce platforms is saturated, and a quick Google search is sure to overwhelm you. To help narrow it down, here's the top five platforms on the market today:
Prices and ratings for each platform vary - you can find a comparison table here.
Step Two: Set Up Shop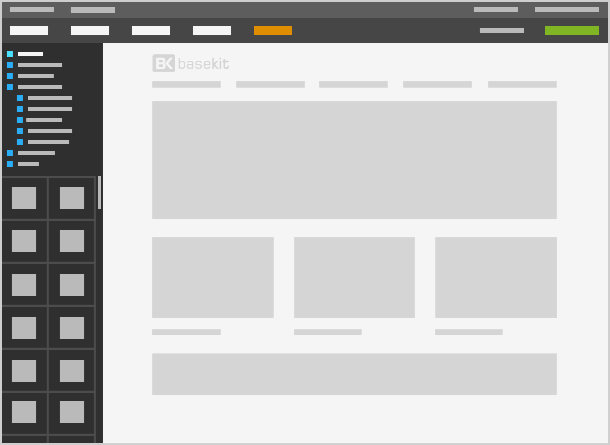 Many of these e-commerce sites use a drag-and-drop system for setting up your shop, so absolutely no coding skills are required. Good news, right?
Although each platform has its own process for setting up, they are usually pretty similar. Using Shopify as an example, here's the basic step-by-step process:
Note: More details can easily be found by searching for "how to build an online shop with [platform]".
1. Purchase a domain name
Using a unique domain name (i.e. www.petshop.com versus www.petshop.shopify.com) promotes credibility to your site and isn't usually very expensive. If you already have a domain name for your website, consider using a sub-domain such as shop.petshop.com. Note: If you have your website hosted on Wordpress, you can easily expand your site using WooComerce and you won't have to worry about this step.
2. Sign up for the site
Some even have free trials to try before you buy!
3. Choose a theme
This will be the basic "look" of your site and are pre-designed layouts by designers with full support so they're guaranteed to work
4. Edit your settings
Changing basic settings will make sure your theme doesn't look the same as everyone else's. Customize your site's look and feel by changing colors, fonts, adding your logo, adding slides, choosing how many items appear, and more.
Play with the settings until you're happy with how your site looks!
5. Add products
Most platforms will make it clear where to click to add products to your site. They'll take you to an upload wizard which will guide you through uploading photos, product descriptions, price, and more.
Note: Don't have this information on hand? Reach out to your manufacturers to request assistance and product information; many have them readily available for you to use!
6. Set up product categories
Also known as "collections" on Shopify, creating these categories will help your customers find what they're looking for.
For example, putting all your manufacturers' cat food under a parent "Cat Food" category will ensure anyone looking for food for their feline will easily find it
7. Set up payment gateways
These will allow you to take payments from customers on site. Keep an eye on prices and commission rates to get the most value out of your site.
8. Get ready to go live
Finalize your site by filling out any essential information such as general settings, taxes, and shipping information. Make sure you test out your order system before going live by using a bogus gateway.
Step Three: Promote your Site
Once your site is live and ready to go, it's time to start promoting it! Tell your customers about it when they're in store, and consider offering 15% off their first online purchase. This tells them that their favorite pet store is now just as convenient as your competitors, and encourages them to give it a try!
Another way to promote your site is to engage with your customers on social media and let them know about it. Read our guide on engaging on social media here.
Alternative Option: Setting up Delivery Service
Don't have the time or resources to set up an online shop? Consider setting up a delivery service for local customers instead!
Fortunately, signing up as a partner with delivery services can be simple.In our article about becoming a mobile-friendly pet store, we explored a few of these options. These include:
For those who are based in the Seattle area, you may have noticed (or have heard about) All the Best Pet Care's partnership with Amazon's Prime Now delivery service. Since August 2016, GeekWire states that the company was the first retailer outside of restaurants and grocery stores to offer 2-hour delivery service through Prime Now.
GET IN TOUCH

Click here to sign up for our monthly newsletter to stay up to date on current market trends in the pet industry.
No Comment