There's no doubt that dog treats with benefits are growing in the pet care market. As customers are treating their furry friends more like family, they are buying products that benefit their health in various ways as well. One of these ways is in the dental field, and as consumers become more interested in dog treats that provide dental benefits, manufacturers jump in to take advantage of the market demand.
However, with so many different kinds out there, how can you tell which dental treats are best for dogs? When coming up with a decision, it's important to consider the many factors that may be involved. Among other things, the size of the dog, the breed, and the type of food they eat on a daily basis may all be important considerations. Here's a guide to some of the most common dental treats out on the market right now, and ways to differentiate between the different brands.
Greenies' Original Dental Chews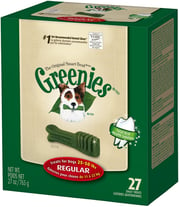 Greenies, that brand that is essentially everywhere you look - whether it be in a pet specialty store, a grocery store, or pretty much anywhere else that might or might not normally sell dog supplies. Greenies is certainly a leader in the game of dental treats, but does that necessarily mean they are the best, or that it's the only option that these stores should be stocking?
The way that Greenies' dental treats work (according to their website) is as follows:
GREENIES™ Canine Dental Chews feature a special texture designed for maximum dental effectiveness. Our unique treats help control plaque and tartar buildup by mechanical abrasion. Their chewy texture allows your dog's teeth to sink in for maximum tooth contact. Much like a toothbrush, this action causes a mechanical scrubbing of the tooth surface. Our [treats] do not use chemicals to reduce plaque and tartar like many other brands.
As you can see, Greenies relies on abrasion and the contact with teeth for the dental cleaning to take place in a dog's mouth. But how effective are they? According to their website, in a 28-day period, Greenies boasts 60% less tartar accumulation, 33% less plaque accumulation, and 80% healthier gums. Pretty good, right? Let's see what else the dental dog treat market has to offer.
Related Article: The Benefits of Pumpkin in Dog Food and Treats
Ingredients (Original): Wheat flour, wheat protein isolate, glycerin, gelatin, oat fiber, water, lecithin, natural poultry flavor, minerals (dicalcium phosphate, calcium carbonate, potassium chloride, magnesium amino acid chelate, zinc amino acid chelate, iron amino acid chelate, copper amino acid chelate, manganese amino acid chelate, potassium iodide), choline chloride, dried apple pomace, fruit juice color, vitamins ( dl-alpha tocopherol acetate [source of vitamin E], vitamin B12 supplement, d-calcium pantothenate [vitamin B5], niacin supplement, vitamin A supplement, riboflavin supplement [vitamin B2], vitamin D3 supplement, biotin, pyridoxine hydrochloride [vitamin B6], thiamine mononitrate [vitamin B1], folic acid), turmeric color.
Fruitables BioActive Fresh Mouth Dental Chews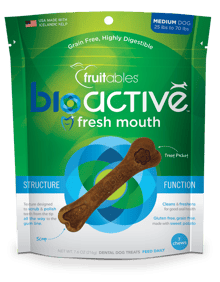 Similar to Greenies' products, Fruitables BioActive Fresh Mouth Dental Dog Treats also relies on abrasion and the contact with teeth for dental cleaning. However, it also continues to be active and help whilst the pet is digesting the chews as there are active ingredients in the product - not simply just "abrasive chewing" as a means for dental health. This means that while the dog is digesting the treat, the active ingredients are constantly working to improve his dental well-being.
Fruitables' dental dog treats are known to be the first chews designed specifically to clean the entire tooth from the tip to the gum line. This occurs through a firm scrubbing texture that allows the tooth to sink into the chew, scrubbing the full length of the tooth. Think of it as though you were biting on a tooth brush - although many of us wouldn't normally do that, a dog might, and doing so would allow the bristles to brush up against every part of the tooth.
Not only are these treats soft enough for the dog to sink his teeth into, but they are also created with BioActive ingredients such as organic Icelandic sea kelp with bacteriostatic properties that works with saliva to fight plaque. That was a lot of words, but basically, Fruitables Fresh Mouth chews can also boast a significant decrease in plaque build up in dogs.
Additionally, decaffeinated green tea (we don't want these guys any more wired than they already are, right?) has been added to fight bad breath. They made sure not to leave out the calcium, which promotes strong teeth, and the primary ingredient is sweet potato, which benefits digestive health.
What are the main differences between Greenies and Fruitables? Greenies' treats are much tougher, and may not allow the dog's entire teeth to sink into the chew. They also don't contain the BioActive ingredients that Fruitables' Fresh Mouth treats do, which allow for optimum dental health, even when the dog isn't currently chewing.
Ingredients (Medium Fresh Mouth): Sweet Potato Flour, Tapioca Starch, Vegetable Glycerin, Pea Protein, Organic Kelp, Potato Flour, Powdered Cellulose, Natural Flavoring, Sunflower Seed Oil, Calcium Carbonate, Sunflower Lecithin, Decaffeinated Green Tea Extract, Parsley, Citric Acid, Zinc Propionate, Beta Carotene.
Additional benefits include the ability to fit any Fruitables Skinny Mini treat at one end, and a scoop at the other end to entice dogs to chew with pumpkin or dog-friendly peanut butters!
Tropiclean Fresh Breath PLus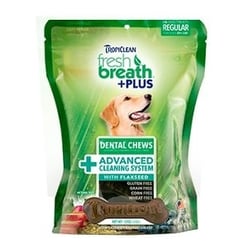 Tropiclean Fresh Breath Plus uses it's ingredients as a mechanism along with the chewing action to brush a dog's teeth. These treats contain ingredients such as flaxseed ( as an abrasive material), baking soda and parsley as breath fresheners, and a green tea extract which enhances dental well-being.
Related Article: The Benefits of Having Limited Ingredients in Pet Food
The idea behind this particular dental treat is to use the ingredients plus the "mechanical chewing action" to simulate the likeness of brushing one's teeth. In this way, they are similar to Greenies in that the dental benefits essentially end once the dog swallows the treat.
Ingredients (Advanced Cleaning System): Potato Starch, Tapioca Starch, Vegetable Glycerin, Dried Beet Pulp, Natural Chicken Flavor, Cane molasses, Chicken, Gelatin, Ground Flaxseed, Water, Poultry Fat (Preserved with Mixed Tocopherols), Sodium Bicarbonate, Lecithin, Flaxseed, Parsley Flakes, Green Tea Extract, Sorbic Acid (Preservative), Blueberries, Vitamin E Supplement, Zinc Proteinate, Rosemary Extract.
Zuke's Z-Bones Grain-Free Dental Chews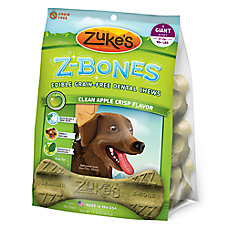 Zukes Z-Bones dental treats are another great option, next to Fruitables Fresh Mouth, for those who are looking for a grain-free and USA-made option. A small difference between Fruitables and Zuke's is the fact that Zuke's uses pumpkin in these chews, whereas Fruitables uses sweet potato as the main ingredient, which has very similar benefits. Both pumpkin and sweet potato helps promote healthy digestion, giving both brands dual benefits (dental health and optimal digestion tract).
The Z-Bones by Zuke's not only support healthy digestion, but also benefits fresh breath by using ingredients such as alfalfa, parsley, rosemary, and fennel. The chew primarily relies on the texture of the treat in order to help polish teeth and maintain healthy gums.
Related Article: "Made in USA" - What Does It Mean for Pet Food?
Ingredients (Z-Bones): Potato Flour, Peas, Tapioca, Vegetable Glycerin, Pea Protein, Carrots, Pumpkin, Lecithin, Natural Flavor, Caramel, Beta-Carotene, Parsley, Citric Acid, Zinc Propionate, Alfalfa, Rosemary, Turmeric, Fennel
Merrick Brush Dental Bones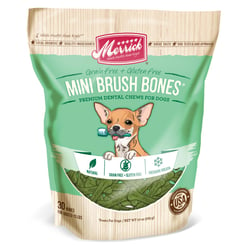 Merrick Brush Dental Bones' claim to fame is that they are grain-free, gluten free, and made out of natural ingredients. These dental treats are made in the USA and do not source any of their ingredients from China, similar to Fruitables. Their "innovative" shapes and ingredients are what causes the dog to have fresh breath.
While these dental treats do not contain sorbic acid or copper chlorophylin, they do contain cane molasses, or added sugars, which can lead to obesity and other diseases when a pet is exposed to it too often. It also does not contain any of the active ingredients which would allow for optimum dental health, even after the treat has been chewed and swallowed.
Ingredients ('Lil Brush Dental Bone): Potato Starch, Vegetable Glycerin, Dried Beet Pulp, Cane Molasses, Chicken Fat, Natural Chicken Flavor, Water, Alfalfa Nutrient Concentrate (source of chlorophyll), Lecithin, Dried Cultured Skim Milk, Parsley.
Comparing Cost Effectiveness
In addition to pointing out the features and ingredients to every popular brand of treats for dental health, we have also put together a chart that compares feeding recommendations and MSRPs to find out exactly how much it costs the consumer to benefit their dog's health. We used a 30-day month for the calculations and organized it from least expensive to most.
| | | | | | | | |
| --- | --- | --- | --- | --- | --- | --- | --- |
| Brand | Product Name | Size of Dog | MSRP | Feeding Recommendation | # of Treats per month | Total Daily Cost | Total Monthly Cost |
| Fruitables | BioActive Fresh Mouth 10 ct | 25 - 70 lbs | $17.99 | Every third day | 10 | $0.59 | $17.99 |
| Tropiclean | Fresh Breath + Adv. Cleaning System 10 ct | 25 + lbs | $15.99 | One per day | 30 | $1.60 | $48.00 |
| Zuke's | Z-Bones 8 ct | 25 - 60 lbs | $13.99 | One per day | 30 | $1.75 | $52.46 |
| Greenies | Original Dental Chews 6 ct | 25 - 50 lbs | $10.99 | One per day | 30 | $1.83 | $54.90 |
| Merrick | Big Brush Bones 10 ct | 25 + lbs | $18.99 | One per day | 30 | $1.90 | $56.97 |
As you can see from the above chart, Fruitables may have one of the highest MSRP's per individual units, but the total monthly cost is less than half less expensive than the next product. This is because Fruitables treats have been designed to work over a course of 48 - 72 hours instead of just 24, due to the BioActive ingredients in the chews.
Have any additional questions about dental treats? Comment below or contact our team here!
Ashley Hoffman – E-Commerce & Digital Marketing Manager joined the All Points family in April of 2015. Ashley brings a fresh outlook to the marketing industry as well as a constant desire for learning something new. She is dedicated to consistently improving her skills and efficiency in the marketing industry and using those skills to promote APM and all brands we represent. Ashley has grown up with many animals throughout her life and is currently the loving owner of two cats.
Click here to sign up for our monthly newsletter to stay up to date on current market trends in the pet industry.
No Comment