Any pet or outdoor gear retailer likely stocks some sort of pet containment product in their stores or online through their website. As consumers become interested in trends such as backyard chickening or rabbit-keeping, they are going to need a way to comfortably and humanely house them. The pet containment category is just like everything else in that trends change year over year as consumer tastes evolve.
Although pet food is a primary driver for the pet industry, adding a chicken coop or rabbit hutch to any pet specialty store or farm & feed supply is a great way to capture those high-ticket sales. The key to success in this category, however, is ensuring inventory matches what consumers are asking for. Spring is right around the corner, and with it comes opporunities for high sales with these big-ticket items. We have gathered information directly from Advantek on some of the trends we should be keeping an eye out for this year.
Accurate Pet Capacities
One of the biggest complaints seen by mass manufacturers of products such as rabbit hutches and chicken coops is inaccurate pet capacity counts. As there is no current standard for estimating pet capacity, manufacturers are simply using their "best guess" as to how many animals will fit inside their product. This means that a small backyard chicken coop might suggest holding as many as eight chickens in one coop!
How do they get away with it? Well there is simply no current standard to specifying accurate pet capacity for containment products. As you can imagine, this often causes shoppers frustration and confusion when it comes to picking out the perfect coop or hutch for their animal. Clearly, this is not the most responsible way to sell these coops and hutches to consumers. What can then be done to correct it?
Related Article: 3 Ways the Pet Industry is Becoming More Humane
Over a year ago, Advantek asked themselves the very same question. After many months of intensive research, Advantek released a set of humane chicken coop standards that they strongly encourage every other manufacturer to implement as well. These humane chicken coop standards include the following considerations:
2-3 square feet per chicken for roosting and space. 1 square foot on the roosting bar

12" x 12" x 12" for a nesting box per 1-3 chickens max

3-6 square feet of running space
Read more about Advantek's updated guidelines for chicken coops.
Similar standards are currently being researched and developed for their rabbit hutches. We strongly encourage these standards to be shared with other mass chicken coop manufacturers as it will help to standardize the industry. This will ensure consumer satisfaction and encourage repeat customers, not only for Advantek and any other manufacturer who decides to adopt these standards, but also for any retailer carrying their products.
Predator Proof Coops and Hutches
This trend may seem like a "duh," but surprisingly it's one that many chicken coop and rabbit hutch suppliers don't often think about enough. As consumers continue discussing predator proof strategies through online forums such as backyardchickens.com, it's clear that there is a critical need for mass-produced hutches to adopt these methods for keeping pets safe.
Nothing is worse than walking into your backyard first thing in the morning to gather eggs and finding all three chickens mauled by a raccoon, fox, or other similar predator. Horror stories are shared online, and consumers are rightly becoming convinced that the more predator proof the coop is, the better.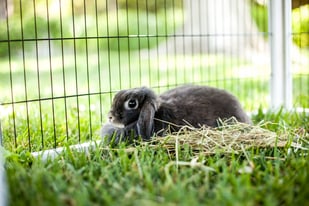 Related Article: Best Rabbit Products to Offer in U.S. Pet Stores
Advantek is currently working with factories to improve all current and future coops and hutches with higher predator proof features including improved, high quality hardware (especially latches), hardware cloth that is harder for predators to rip, and a way to close off the hutch area from the run at night to protect pets inside. At this time, consumers will be hard-pressed to find a mass-produced (read: inexpensive) backyard chicken coop or rabbit hutch that fits their needs for protection. Within the coming months, Advantek hopes to capture this market with high quality upgrades on current coops and hutches, as well as new products that are designed to be as protected as possible.
Ease of Clean-Up
As any pet owner will tell you, one of the most important aspects to owning any pet is cleaning up after it. Although many backyard chickeners or rabbit owners will be more than happy to ensure clean-up occurs on a daily basis, it's important that this process is as simplified as possible.
One of the biggest flaws in mass-produced chicken coops and rabbit hutches is that many companies simply aren't testing them out in real-world scenarios before putting them on the market. This may result in simple chores such as clean up becoming overly complicated, as pull-out trays may not work correctly or their consumers are just simply not educated on proper clean-up strategies for each product.
Being able to simply and easily clean up after a chicken, rabbit, or any other pet for that matter is going to become extremely important throughout 2017 and beyond. As consumers are shopping for their next rabbit hutch or chicken coop, they will very likely consider this factor to be very high on their priority list. Advantek is currently working on developing methods to dramatically simplify the clean-up process for current and future consumers alike.
Coop and Hutch Design

Last, but certainly not least, of the pet containment trends for 2017 includes overall coop and hutch design for both functionality and aesthetics. Many shoppers have noticed the similarities between many of the (limited) options on the market today for mass-produced products for containment. This is largely due to the "me-too" strategy that manufacturers often use when searching for the next product to release at Global Pet Expo or SuperZoo.
Related Article: What Does the Humanization of Pets Mean for Pet Habitats?
The problem with many of these designs, aside from the obvious fact that there is little-to-no differentiation between brands, is the fact that many basic essentials are often not included. For example, many rabbit hutches don't consider where bedding, a litter box, a food and water bowl, and a hay trough is all going to go. Similarly, chicken coops largely force consumers to place waterers and feeders outside the coop within the run, potentially risking quality due to weathering and other outdoor elements.
Coop and hutch design will take a turn for the better in 2017 as companies such as Advantek work to consider these options when designing new products to release in the market. Going forward, consumers will have the ability to easily place rabbit and chicken accessories inside the coop or hutch, without sacrificing room for their pet, or the aesthetic appearance their products may present.
What other trends are you seeing in this category for 2017? Is backyard chicken coops and rabbit hutches on a road to success, or getting worse as time goes by?
GET IN TOUCH
ABOUT THE AUTHOR
Ashley Hoffman – E-Commerce & Digital Marketing Manager joined the All Points family in April of 2015. Ashley brings a fresh outlook to the marketing industry as well as a constant desire for learning something new. She is dedicated to consistently improving her skills and efficiency in the marketing industry and using those skills to promote APM and all brands we represent. Ashley has grown up with many animals throughout her life and is currently the loving owner of two cats.
Click here to sign up for our monthly newsletter to stay up to date on current market trends in the pet industry
No Comment