The pet food industry is one that is captivating in it's complexity and it's propensity to make pet specialty retailers and manufacturers alike a lot of money.
As the pet industry has been on the rise, the pet food segment especially has captivated the imaginations of manufacturers who have come up with innovative ways to capture the attention, and ultimately, sales, of modern pet-owning consumers.
Manufacturers and pet specialty retailers have been working together over the past few years to increase sales and push the pet food industry in a direction it's never been before. This collaboration seems to be paying off, as Pet Food Industry has recently released a webinar that shows significant improvements in numbers.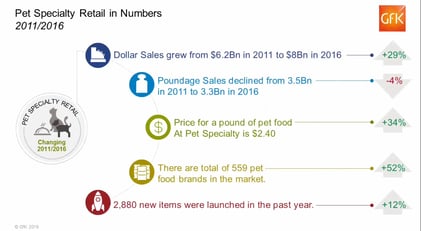 Just in pet specialty retail alone, dollar sales have increased 29% from $6.2B to $8B in the last five years. Average price per pound for pet food in this segment has increased 34% to $2.40 and there are now a total of 559 pet food brands in the market, which is up 52% from 2011.
In the past year alone, 2,880 new items were launched (GFK). These numbers are telling us that there is real opportunity in the pet food market, and it's not something to sniff at.
While we are clearly seeing major growth in this market, the pet food trends that are driving it in the U.S. market largely have to do with premiumization of cat and dog food in pet specialty retail.
Natural & Grain-Free
These days, it's hard to think about the pet food industry without considering natural and grain-free food options for pets. It's no wonder, as the natural category alone has a 70% market share at $5.6B and a 7.6% growth rate year over year. As you'll see later on, it's really difficult these days to have natural pet food without it being grain-free. The grain-free category owns 37% of the market share at $3B and a 20.2% growth rate year over year (GFK).
While natural pet food is certainly on the rise, there does seem to be a caveat to this statistic. That is because natural foods that are not grain-free are actually on a slight decline (2% quarter over quarter). However, natural pet foods that are grain-free are on a steady incline in sales and popularity. What we can take away from this is that grain-free is the driver of natural growth within pet specialty retail. However, it may be worth noting that natural foods even with grains were also steadily increasing throughout all of 2015. It will be interesting to see whether natural foods with grain are only momentarily decreasing in sales, or whether it will be a long-term pet food trend.
Limited Ingredient
According to Pet Food Industry and GFK, limited ingredients in pet foods is also on the rise. This category owns 8.6% of the market at $683M and has a 12.5% growth rate year over year. Much of this category is currently made up of dry dog food (82.5%) but the second biggest growth factor is within the wet cat category. Although limited ingredients in wet cat food is still a small segment (1.9%), it's growth rate is much larger than that of other pet food segments within the limited ingredient category (GFK).
Why limited ingredients in dog and cat food? The idea behind this category is as simple as the ingredients involved: full transparency with the consumer about what their pets' food is being made out of. According to a recent article, the benefits of limited ingredients in pet food include an easy to understand ingredient panel, a boost in natural nutrition versus added ingredients, and an easy to customize diet for pets.
Related Article: Applaws Answers: Why Limited Ingredient Pet Food?
The limited ingredient pet food trend is inspired by the human food category, where brands such as 'That's It. Fruit Bars' and 'RXBAR' are creating food items with very limited and very clear ingredient panels and a "no b.s." attitude.
Frozen
Raw frozen pet foods are other keywords that have been circulating popular pet industry articles. While it only owns 1.2% of the market at this time at $97M, it does boast a high growth rate of 26.9% year over year. Sales in this category have increased from $43.1 in 2012 to the $97.3 it was as of June of 2016. However, month over month has seen some declines in popularity, partially due to the decline in pet food sales by pound altogether.
Pet stores selling frozen pet food have nearly doubled from 38% to 63% in the past 5 years (GFK). One of the most notable possible new players to the raw and frozen game is Chewy.com, who is currently considering adding this category to their online sales. Whether online sales may be feasible in this category, there's no doubt pet specialty retailers are currently taking note of the potential growth this difficult segment may bring to their sales.
Dehydrated & Freeze-Dried
Last, but certainly not least (at least growth-wise) of the most popular pet food trends are the dehydrated and freeze-dried categories. Freeze-dried only currently occupies about $61M in sales and dehydrated has made about $20M as of June 2016. Freeze-dried has the most significant growth rate of all of the segments at 45.5% growth year over year, while dehydrated boasts a 37.1% growth rate year over year. While these segments are both currently very small, there's no doubt that they are categories to look out for as they continue to grow steadily within the pet food industry.
According to GFK and Pet Food Industry, both dehydrated and freeze-dried foods have grown in distribution, but freeze-dried specifically has grown more than double the market size. For example, in 2013 freeze-dried accounted for $19.9M of sales, but now is being estimated at $61M as of 2016 (GFK).
Pet Food Industry and GFK have recently partnered to put together a very informative webinar which can be viewed here. We have summarized a portion of the webinar in this post, and you can view more information about how our brands measure up to these trends by downloading the free eBook.
GET IN TOUCH
Download our app and keep in touch with us, no matter where you are!
ABOUT THE AUTHOR
Ashley Hoffman – E-Commerce & Digital Marketing Manager joined the All Points family in April of 2015. Ashley brings a fresh outlook to the marketing industry as well as a constant desire for learning something new. She is dedicated to consistently improving her skills and efficiency in the marketing industry and using those skills to promote APM and all brands we represent. Ashley has grown up with many animals throughout her life and is currently the loving owner of two cats.
Click here to sign up for our monthly newsletter to stay up to date on current market trends in the pet industry
Note: None of the statistical information provided is owned by All Points Marketing or their brands. All studies were conducted and presented by GFK through the Pet Food Industry webinar. We do not claim any information, and are simply using our blog as a method to distribute the information to those who are interested.
No Comment