Imagine you're about to head to the park for a day to have a picnic. As you're packing everything to leave, you notice you forgot to replace that Frisbee that broke last summer.
Knowing the Frisbee is your dog's favorite toy, you know you're going to have to stop by the store to pick one up. But what if your favorite shop doesn't have the Frisbee you're looking for? Don't they know it's the start of picnic season?
Anyone who's worked in or managed a retail shop knows that the key to bringing in and retaining customers, above all else, is stocking the products they're actually looking for.
Think about it: even if you have the best customer service in the world, if you don't have the product they need, your customers won't purchase from you.
Depending on how long you've been managing your store, you may have a good idea of what kinds of products your customers are looking for. But what if there are opportunities to increase your profit that you're not aware of?
Fortunately, there's a way you can check for these missed opportunities. Using Google Trends, you may discover you're missing out on the chance to take your sales to the next level by not stocking a popular product.
Intro to Google Trends
If you've never used Google Trends before, you're missing out on a truly magical tool that can give you quality insight without having you pay a single dime. It gives you a high-level glimpse at what consumers are most often searching for on the Internet.
It's a wonderful tool for pet specialty retailers who want to know which categories to focus on and what kinds of pet products to stock within those categories.
Using Google Trends
Once you log on to the Google Trends dashboard, you can start by typing in specific categories to the search engine - just like you would on Google.com.
In the screenshot below, we used "dog toy," "cat toy," "cat food," and "dog food." You can enter up to five keywords at a time.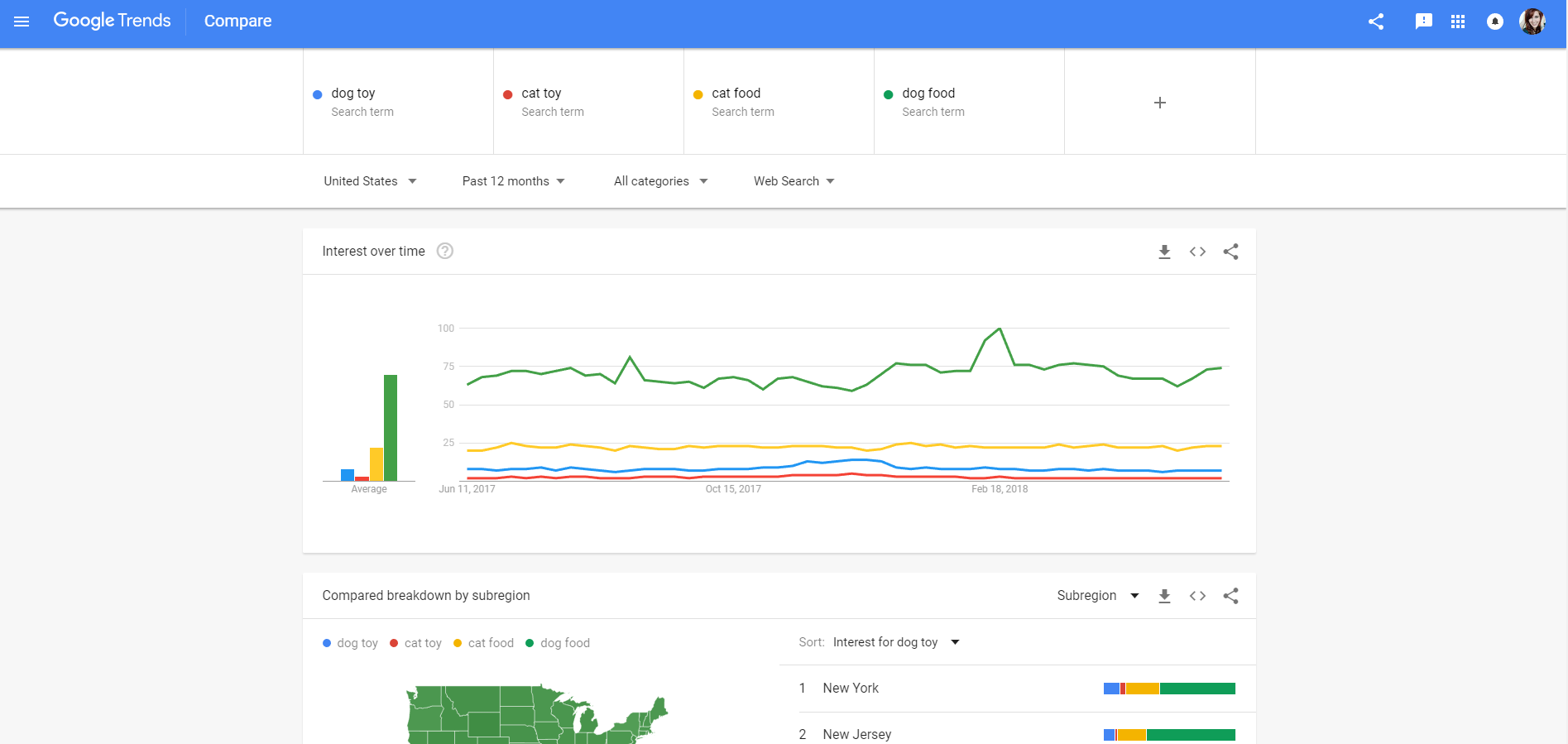 In this graph, from a very top-view level, you can see that "dog food" is by far the most popular category (but we all knew that, didn't we?). Up next is "cat food" followed by "dog toy" and "cat toy" taking up the rear.
Related Article: The Ever-Changing Landscape of Pet Toys
Scrolling down, you'll see the comparison broken down by sub-region. Depending on the country in which you're searching, it will show you a map of region (in this case - United States) color-coded for each keyword.
Diving Deeper
You can use the drop-down to sort which keyword you want to view. You can also click on a state - the one you're based in, for example - to narrow down the locations even further.
On this page, you can scroll down even further to explore each keyword individually. Let's explore "dog toys."
As you can see, the top five "breakout" queries include:
puppy dog pals
pink dog toy meme
toy story land
cactus dog toy
swim dog toy
Another way to search these trends is by clicking "Rising" at the top of the right side of the box and choosing "Top" instead. These will show the top trends, although they may not give you a good idea of what's popular right now.
As you can see, a few of these keywords aren't related to dog toys. With that said, this will still give you a decent idea of the rising trends.
You can explore more of these trends by clicking the arrow to the right of "Showing 1-5 of 25 queries." For this example, let's dive into "cactus dog toy."
Related Article: Reducing Pet Stress One Product At A Time
By clicking on the keyword, it will take you to another page with information about this search term. This page is automatically set to "United States," "Past 12 months," "All categories," and "Web Search." You can change these settings to alter the data you receive.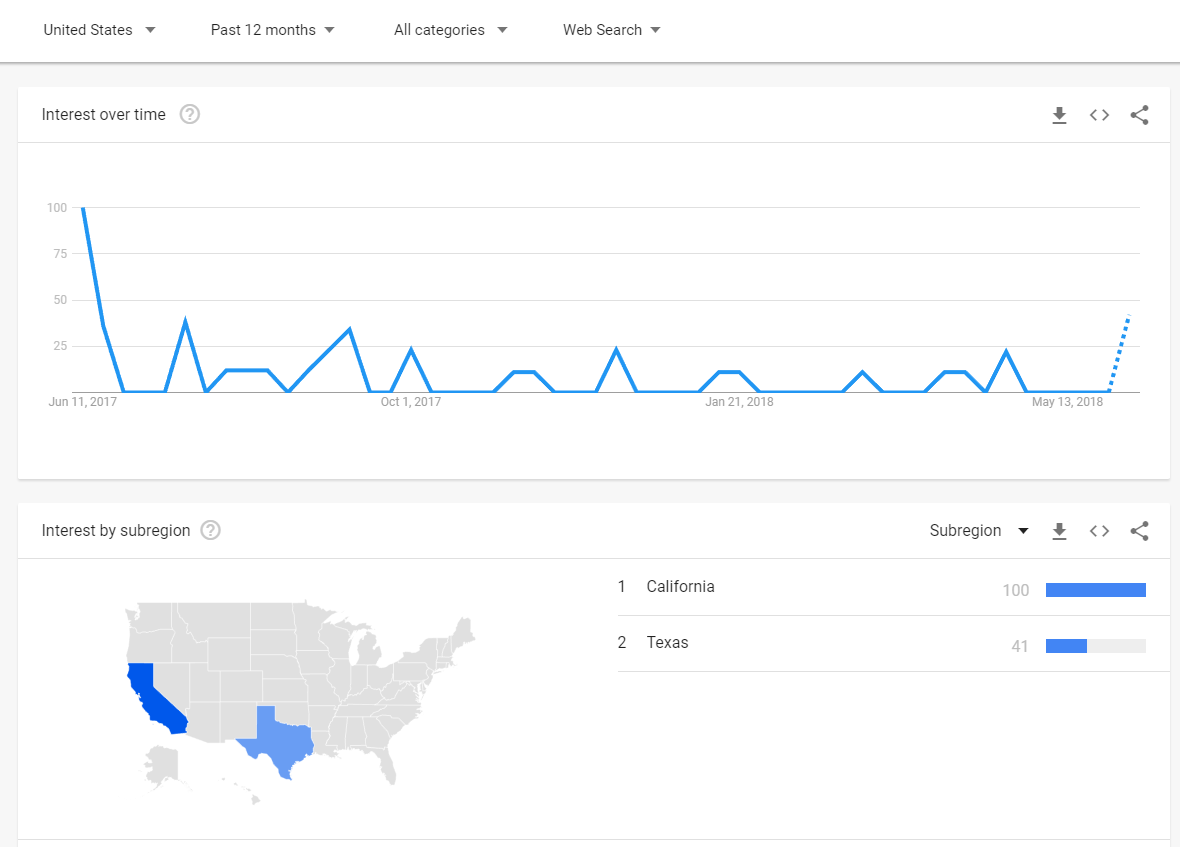 As you can see in the graph, cactus dog toys were popular from June-July 2017. That makes sense, right? Summer = hot; hot = cactus.
Scroll down and you'll note, however, that this interest is broken into sub-regions. As you can see, California is very interested in cactus dog toys and Texas is showing some interest as well. If your store is located in one of these states, it might be worth exploring these further by clicking the state names and diving even deeper into the sub-regions.
Related Article: Forecasting the Next Big Trend in Pet Nutrition
In some cases, diving down too deep may result in a page that doesn't have enough data to show results. This simply means Google hasn't collected enough data to show meaningful statistics.
As you can see, getting lost in Google Trends is easy and often fascinating. While you should by no means base your buying decisions entirely on this data, it gives you a good idea of what types of products, and categories of products, to look for as you consider bringing in a new vendor or product launch.
GET IN TOUCH

No Comment